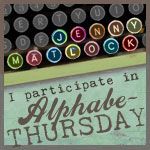 Holy crap!! The day is finally here!!
The day I get to write about the person I hold most dear.
This won't be random word choice or clever turns of a phrase
for she brings peace into my nights and brightens all of my days.
I'd like to run the gambit of old sayings and overused cliches
but realize so many songs convey exactly what i want to say
So indulge me my own private word game
as I list songs that remind me of her by name.
M- my girl
E- every breath you take
L- love you I do
A- always and forever
N- never could say goodbye
I- I'll be loving you forever
E- every little thing you do is magic
These songs can speak to me on so many levels
both body and soul
I hope to write one day with the same intended goal
that you read the words from the man who loves you completely
and that you realize that not only did you save me, you complete me
I LOVE YOU.