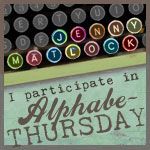 Today I sat and thought of words starting with "V"
couldn't come up with one that inspired a rhyme
then I thought of a t-shirt I use to own that was very funny
at least to me. It had a picture of brass knuckles and the words
"I know violence isn't the answer,I got it wrong unpurpose."
Hilarius, so today I'd like to hear from others about their favorite
t-shirts or bumper stickers. Very funny.