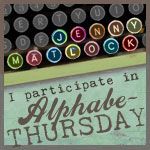 Zenith
Well here we are everyone at the end
hopefully along the way you've met new people
and maybe made a new friend.
It has been an informative, educational journey
that has this urban poet reflecting on yours truly
and seeing a deeper side of me.
I thank you all for your poems,stories, opinions, and more
and I for one can't wait to see what else is in store
which is why I will blog forevermore.
We may have reached the end,the zenith if you will
but I will continue to write more and more still
for it's cathartic release is needed to fulfill.
The part of me that keeps me me sane
and stops me from jumping off the window pane
which is only 3 feet off the ground and would be truly insane.
For all your writings I am truly thankful and blessed
even now as alpha-Thursday comes to a rest
I believe I have surrounded myself with the best.