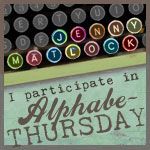 Thank God this week's letter is "J"
It's the perfect letter to let me play
and maybe just maybe pull me from my funk
because I get to write about a favorite subject, my junk.
My junk is quite honestly of a decent size
in fact once you see it, you won't believe your eyes
nobody would ever dare to call my junk small
it literally extends from the bedroom right into the hall.
It really is quite amazing just how much my junk has touched
as a boy I never thought just how many lives it would affect so much
from men, to women, to children, even pets
once it's touched you, my junk is not so easy to forget.
Like anybody else my junk has got bigger as I grew
really quite amazing how much junk I did acrue
at first I could barely fill a room with my junk
now it's all over the house, the garage, and even in my trunk.
Because much like everyone else I can't throw my junk away
you just never know if you'll need that piece of junk someday.
WHAT?!? What did you think this was about??