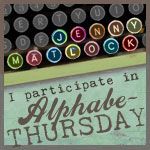 E is for ecstatic,emphatic,excitement at new paths in my life
that have come to pass after going through such long periods of strife.
I find myself at another crossroads again
wondering if the one I choose will loose or win.
I choose my path and began to walk it proudly
and I scream for joy and do it loudly.
to be back to doing the thing that I love
is a gift I can only thank for the man above.
hopefully this will all work out as it should
I'll give it my all to make sure that it would.
for this is what I know and I cannot think
of me doing anything in this world but slinging ink.
so with a cherubic grin plastered across my face
I smile widely as i move about the place.
for this shop is now my new place to enjoy my job
until the workday's done I'm just another working class slob
http://frommywickedwaystoturningaphrase.blogspot.com/